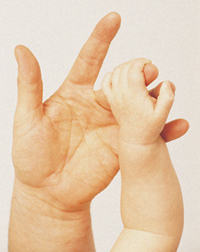 Surrogacy is a wonderful choice for many women who otherwise would not get to experience the joys of motherhood. At SRMS, both gestational and genetic surrogacy options are available. Detailed descriptions of each are below.
Gestational Surrogacy Definition

In the gestational surrogacy procedure, the gestational surrogate acts as an "incubator" for the pregnancy. While she is the birth mother of the child, she is not the genetic mother of the child. The pregnancy, instead, was a result of combining the husband's sperm and his wife's eggs in the laboratory through the IVF process. A couple of embryos are then transferred via a simple catheter into the gestational surrogate's uterus and she carries the pregnancy to term.

Gestational surrogacy may be thought of as a logical extension of the IVF process for a woman who has functioning ovaries, but does not have a uterus. A woman who has experienced multiple miscarriages, or one who has been advised by her doctor not to become pregnant because of other medical conditions may also request gestational surrogacy.
Genetic (Traditional) Surrogacy Definition

Genetic surrogacy is the process in which a woman agrees to become inseminated with sperm from the husband of the intended couple. The surrogate contributes the egg and the uterus. She carries the pregnancy and gives birth to the baby. This type of surrogacy would be indicated if the woman is without her uterus and is missing or has poorly functioning ovaries, a genetic disease which could be passed on to the baby or another medical condition that precludes pregnancy.

If you are interested in becoming a surrogate with SRMS, please Click Here for more information.

If you are seeking a surrogate or if you are interested in becoming a surrogate then you can Click Here for more information.