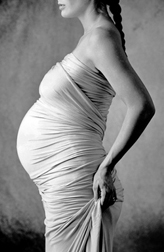 Pregnancy Rates With Respect To Maternal Age: September 2004 - August 2009:
Pregnancy Rates With Respect To Maternal Age: 2004-2009 Stats, download PDF

This somewhat complex sheet of data is well worth the time and effort understanding. Looking at the columns, the far left numbers are simply used for reference. The Parameters Studied are descriptive making sense of the pile of information. The "All" category sums up the entire group of patients. Most importantly, the Maternal Age section divides the patients into the same groups that are used by the CDC. The far right category involves Egg Recipients, those being provided donated eggs.
Let's look at just one column, the <35-year-old women. Moving down, you can see that the average age of this group was 30, we started with 120 cycles and had to cancel 15 (usually due to a low number of follicles created) resulting in 105 oocyte retrievals. Eight more cycles were cancelled due to failed fertilization or more often to very poor embryo quality. Forty-two percent of our patients fell into this age category.
We transferred 219 embryos total or 2.3 per patient. Thirty-three percent had negative pregnancy test results while 67% (65/97) were positive. Seven very early losses occurred out of the 65 and there were no ectopic pregnancies. Clinical Pregnancies are seen on ultrasound. The total number of implantations were 108 with one spontaneous loss (amazingly low) resulting an a 59% take-home-baby rate.
Only 35% of the women had singleton pregnancies, 49% had twins and 16% had triplets. The implantation rate per embryo transferred is a number we all use to decide the optimal number of embryos we should transfer so single embryo transfers would be encouraged in this age group.

You can go down the column of your choice the same way to see review the category most important to you.
A few important observations should be reviewed:
This is a fairly large collection of data over almost a four-year period.
As women get older, the take-home baby rates fall.
As the women get older, we try to transfer more and more embryos understanding that most will not implant.
Multiple pregnancy rates are a concern in nearly all the age groups.
The implantation rate, a reflection of the quality of the embryo, falls as the women ages.
Pregnancy loss rates (biochemical and clinical losses) increase as the women age.
The ">42" year old category should probably be ignored since it contains only one patient who conceived twice at 43 and 44 years of age, is an exception to the rule, and truly messes up my chart and graph. I wish all women in this age bracket were as lucky!
We do nearly all of our transfers on day 5 seeking advanced blastocysts and morula embryos for transfer.

If you would like to learn more about the In Vitro Fertilization procedures, please visit our download section.